Eagle Watch Subdivision is a swim, tennis and golf community located approximate 40 minutes north of Atlanta in beautiful Cherokee Country. The community boasts 1381 homes, 3 pools, 14 tennis courts, two large playgrounds, basketball courts, a volleyball court, fitness club, an open pavilion and the Eagle Watch Golf Club and Course.
The Eagle Watch Tennis Association (EWTA) was created in 2001 in order to support one of the fastest growing Tennis Programs in the Towne Lake area. The Tennis Program is staffed with 4 of the highest quality and most reputable Tennis Professionals in the metro-Atlanta area. Each Tennis Professional is either USPTA or PTR certified and has been teaching a minimum of 12 years in the Atlanta area. The EWTA is independant of the Eagle Watch HOA and is fully self funded.
Residents at Eagle Watch do not need to be members of the EWTA to use the Tennis Facilities, and many teams to play within the various leagues are formed each year.
The pools normally open in May each year and close in September. All residents in good standing with the Home Owners Association will be mailed a Pool Card each year.
Eagle Watch Golf Club
Built in 1989, Eagle Watch is an Arnold Palmer designed course that has consistently ranked among Atlanta's top golfing venues. Situated amidst a beautiful natural setting in the scenic foothills of the Blueridge Mountains, Eagle Watch is a traditional-style course with a number of dramatic elevation changes and water features that protect 10 of the 18 holes. With fairways surrounded by wooded hills, and ponds and creeks adding challenge and interest to the layout, this course will almost certainly bring out the best golf in every player.

Course Data
| | | | | |
| --- | --- | --- | --- | --- |
| Tee | Par | Yardage | Rating | Slope |
| Gold | 72 | 6,896 | 72.7 | 139 |
| Blue | 72 | 6,458 | 70.5 | 133 |
| White | 72 | 6,044 | 68.4 | 128 |
| Red | 72 | 5,246 | 70.0 | 126 |
Club House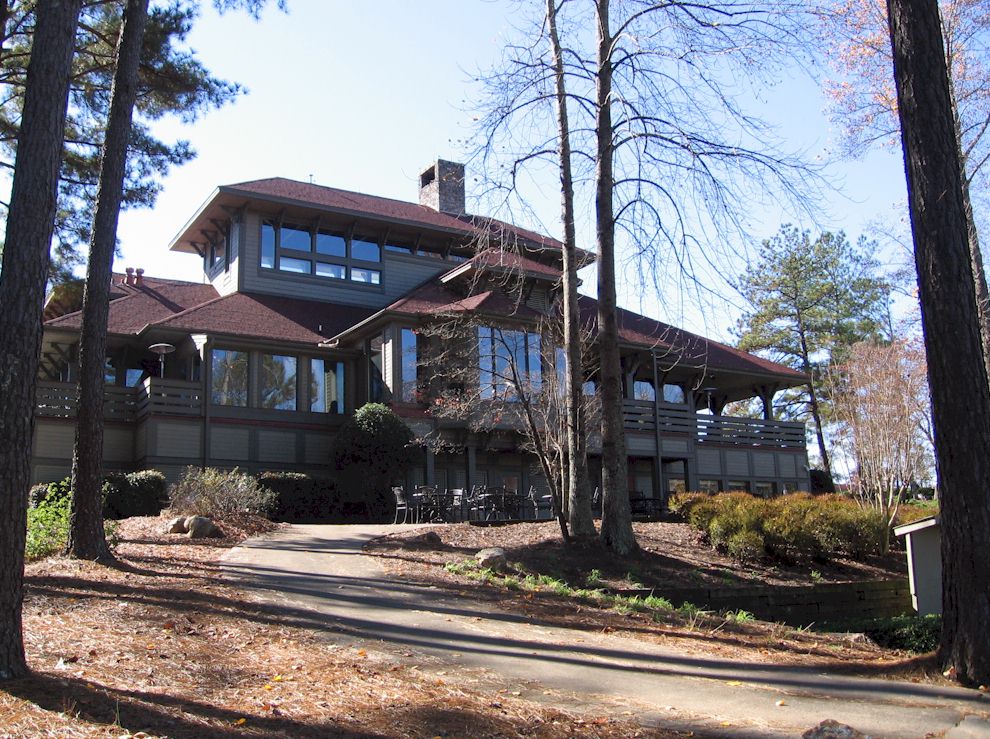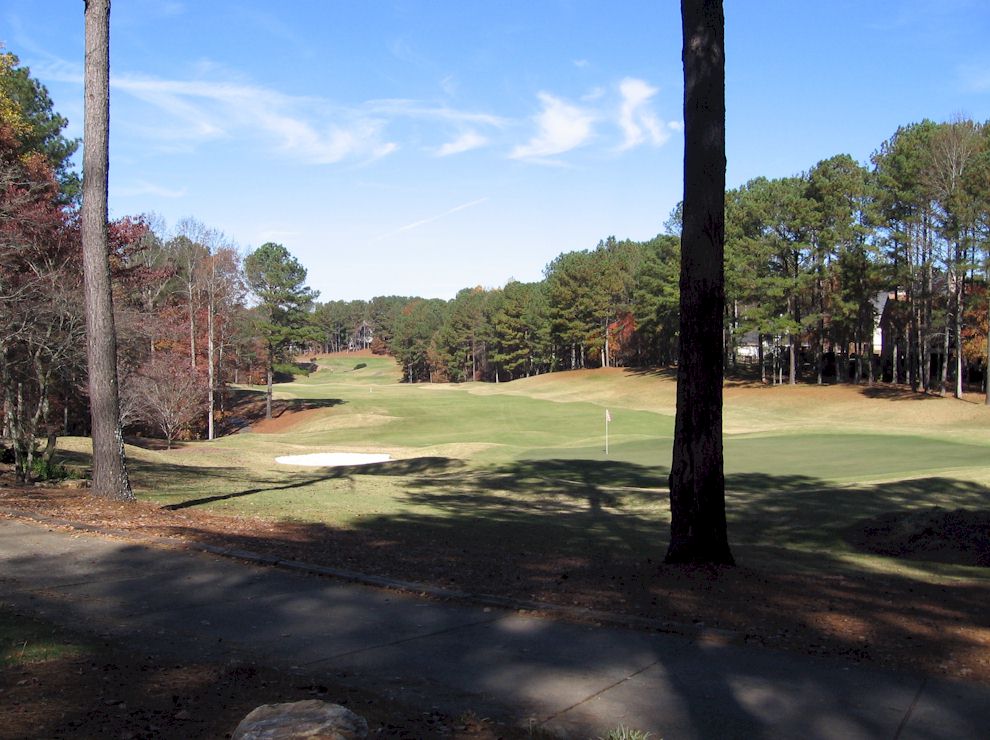 Eagle Watch's 8,500 square foot clubhouse is reminiscent of a turn-of-the-century lodge. The facility includes a fully stocked Pro Shop, three dining rooms, men's and women's changing rooms, and a spacious lobby that serves as a tribute to Arnold Palmer.
The heart of this warm and inviting space is the main dining room featuring large exposed pine beams and a majestic stone fireplace reaching to the top of the 25-foot cathedral ceiling. The total area can accomodate up to 150 guests for receptions.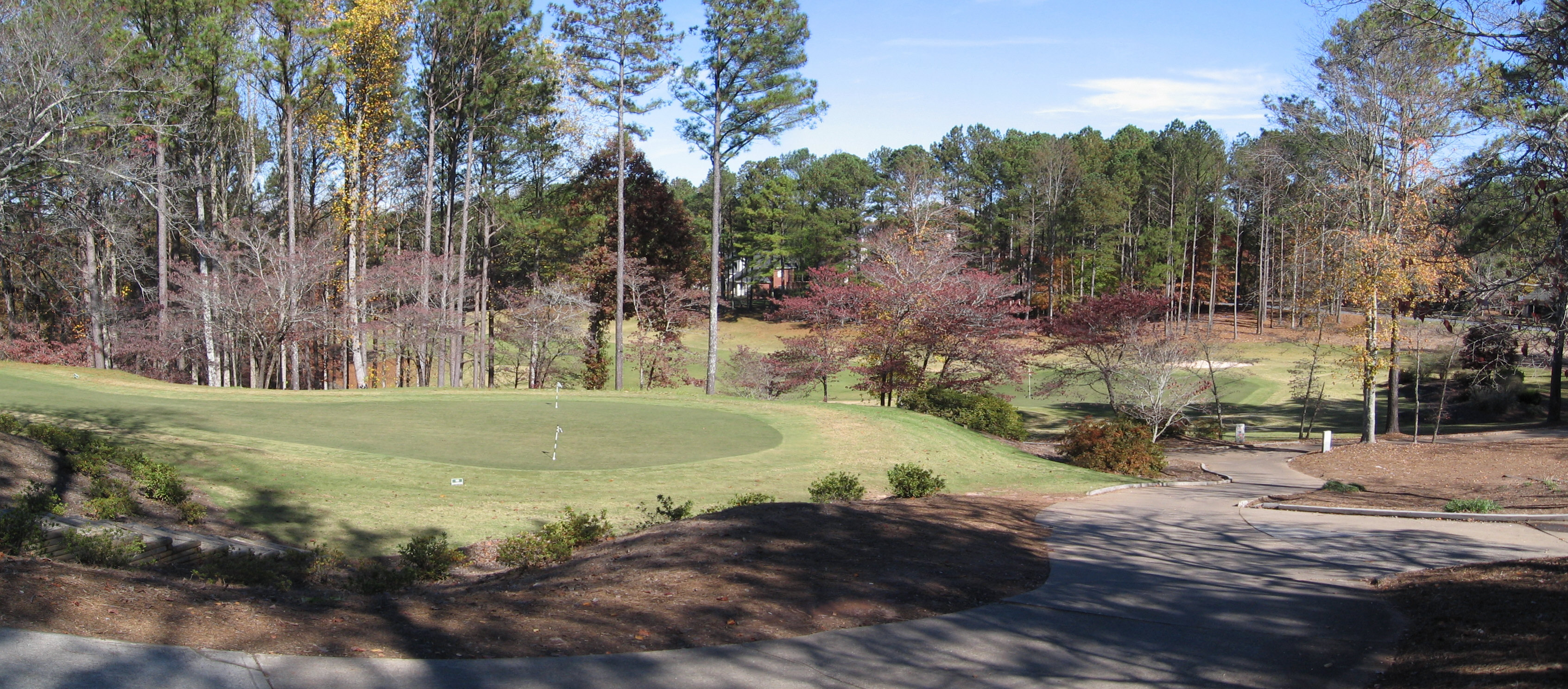 Membership - Cannongate Golf Clubs
Eagle Watch and Bentwater are Canongate Golf Clubs. The Canongate concept provides private club privileges for a modest entry fee and low monthly dues. Canongate is also known for its unique reciprocity privilege that allows members to play all the courses in the portfolio, which are conveniently located near each other. It's like joining twenty-two private clubs that feature twenty-six great courses for the price of one. In addition, several clubs offer pool, tennis, and social benefits for the entire family.
Membership at Eagle Watch and Bentwater Golf Clubs is 'coupled'. There are three types of Eagle Watch / Bentwater memberships available: Social Members enjoy club dining amenities, social functions and access to the annual driving range program. Associate Golf Members have the use of all club facilities and pay a "member green fee" when playing golf. Full Golf Members have the use of all facilities and do not pay a greens fee for golf at their home club.
A summary of the membership classifications, benefits and fees are listed below. All membership categories include the primary member's spouse and any children who are younger than the age of 25 and living at home. This means that the entire family has access to golf and social privileges. If a member is unmarried, the membership shall include the individual and any children living at home under the age of 25.
MEMBERSHIP DETAILS
Membership Type
Benefits
One Time Entry Fee
Monthly Dues Payment Options
Member Green Fee
18 Hole Member Cart Fee
Monthly Food Minimum

Social

Family access to restaurant & social functions.

$100

$25

N/A

N/A

$10

Associate
Golf

Social benefits plus family golf access seven days a week.

$0*

$149

$8 Weekday
$10 Weekend at your home club.

$16 Per Player

$10

Full
Golf

Social benefits plus family golf access seven days a week with complimentary greens fees at Eagle Watch and Bentwater.

$0*

$235

Included
when playing
"Home Club"

$16 Per Player

$10
Additional Benefits
Annual Driving Range Program - Unlimited Range Balls and Practice Area Use.
Each Canongate Golf Club has a quality driving range, short game practice area and practice putting greens that are open whenever the club is. All new Golf members are automatically enrolled in the Annual Driving Range Program. The program provides the entire family with unlimited access to range balls at all Canongate Atlanta locations for just $180 per year, plus tax. Optional for Social Members.
First Round Free Program.
New Golf Members that join with a two year commitment pay zero initiation fee and receive their first round of golf for free every month during the commitment period. That's a potential savings of over $600!
Kids Play Free.
Children 15 years and younger can walk the course for FREE or ride a cart for just $5 when playing with their member parent or grandparent. This is valid anytime except Saturdays, Sundays and holidays before noon.
Sundown Member and Guest Rates.
Associate members play after 5:30 p.m. for just $9 including cart. Full members can ride for just $5. The Sundown guest rate is just $18, including cart. Sundown Rates begin at 3:30 p.m. during the winter months.
Tee Times at Eagle Watch and Bentwater.
Eagle Watch / Bentwater members have advance access to tee time reservations at their Home Club. Eagle Watch / Bentwater Golf members can begin reserving weekend golf tee times at Eagle Watch and Bentwater on the preceding Tuesday. Weekday golf tee times can be made up to seven days in advance.
Guests Fees.
Members are welcome to bring guests to any of Canongate Atlanta area golf clubs. Fees can be viewed on the Guest Fee Rate Schedule. The number of golfing guests allowed per member may be subject to certain restrictions during high-demand periods.
Golf Privileges at All Other Canongate Locations.
All Full and Associate Golf members have seven-day-a-week access at all Canongate Golf Clubs and reciprocal play is provided at an incredible value.
All rates above were accurate as at May 2011 and are subject to change. Special promotions may be run by Canongate from time to time. For more information on Eagle Watch and Bentwater Golf Course and other Canongate Course, please visit their website at canongategolf.com.
*$0 entry fee available with a two-year membership commitment. $100 entry fee available with a one-year membership commitment.