Driftwood Forest - Woodstock, GA
Single Family Homes

Price Range
$ 130,000 - $ 175,000
Year Range
1978 - 1988
Driftwood Forest
Imaging enjoying all the amenities of an expensive 'upmarket' subdivision - but without the hefty bills. Well, that is exactly what the Driftwood Forest Subdivision offers you!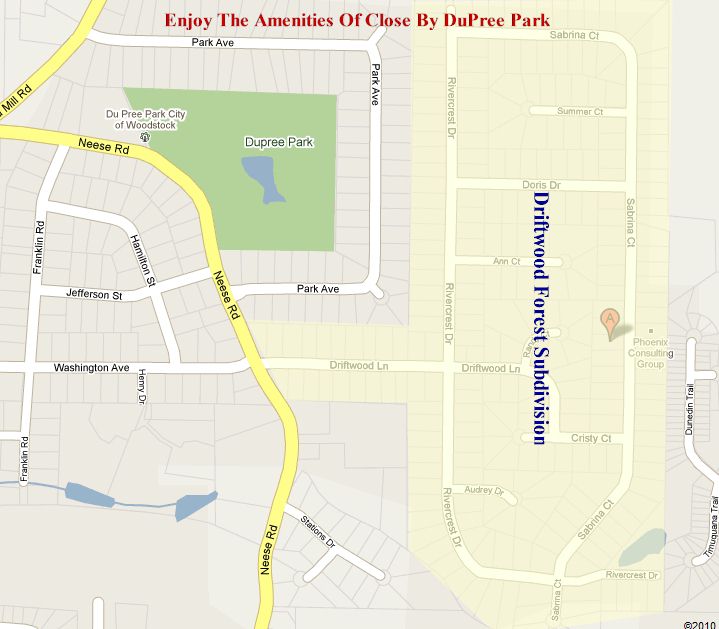 Located within walking or jogging distance of Dupree Park in Woodstock, Diftwood Forests residents have some very fine amentities virtually on their doorstep. Plus these are paid for and maintained by the City of Woodstock, and not exclusively or directly by Diftwood Forests owners.
Dupree Park
Located off Neese Road, Dupree Park offers Two Softball Fields, Four Tennis Courts, Two Basketball Courts, Two Covered Pavilions, Two Playgrounds, A Walking Trail, A Pond For Fishing And Numerous Picnic Areas.
The Softball Fields are used for Adult League Games and Team Practises. The Covered Pavilions are available for use on a first come, first serve basis and feature tables. The larger Pavilion also offers a Charcoil Grill and Electricity.

Local Government
Information Approximated & Updated Periodically. Not Warranted.