Fairfield Plantation - Villa Rica, GA
Single Family Homes
Price Range
$ 40,000 - $ 850,000
Year Range
1985 - 2011
Fairfield Plantation
Fairfield Plantation POA Website
Fairfield Plantation comprises over 1,500 Homes in a Resort Style Gated Community only 45 minutes from downtown Atlanta in beautiful Carrol County.

Three lakes with some 10 miles of shore line provide numerous recreational opportunities within Fairfield Plantation. At it's centerpiece is 275 acre Lake Tara. Abundant and varied birdlife, small wildlife and a good stock of fish protect the community's status as a wild-life preserve. At sunrise, a mirror-like tranquility and chorus of bird songs greet the day. As the day progresses, light winds may pickup as fishermen move quietly from one cove to another, looking for those elusive bass, and boaters of every description - pontooners, water skiiers and jet skiers - skim the waters. Swimmers fill the beaches and picnickers dot the grassy shore. As sunset arrives, tranquility returns. After dark the smell BBQ may waft acroos the lake as beavers ply their age-old search for tender trees along the shores. Welcome home!

Fairfield Plantation Marina is located on the northeast shore of Lake Tara near the dam and serves an assortment of food/snacks and beverages during the summer months. Temporary docking is available for visitors as well as fueling services.

The lovely white sandy beach located on East Isleway Court on the northern shore of Lake Tara offers cool relief for swimmers on hot summer days. A marked off swimming area, volleyball net, shaded picnic tables, an outdoor shower, restrooms, and a changing area make the beach the perfect place to visit for a family outing.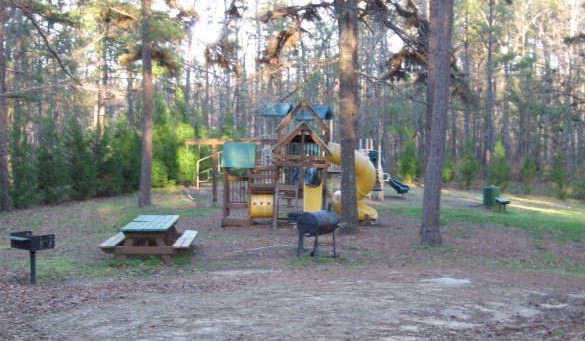 The recreation center is located in the northeast section of Fairfield Plantation. There is a swimming pool, playground & putt-putt course. Volleyball, basketball, ping-pong, air hockey, billiards, foosball, and horseshoe equipment, as well as puzzles, books, and board games, can be checked out from the recreation center staff. There are also picnic tables and grills for your enjoyment. The recreation center is open from mid spring the mid fall.

A second swimming pool and the community tennis courts are located at the Golf Club. The Fairfield Plantation Golf and Country Club is owned and operated by Fairfield Plantation Property Owner Association, Inc. Property Owners enjoy use of the Club House including the Club House Swimming Pool, Tennis Courts and Restaurant. Golf Membership is not included in normal POA Dues and is involves additional fees (see Fairfield Plantation Golf & Country Club information below).
Fairfield Plantation POA Photo Collection
Fairfield Plantation Golf & Country Club

Fairfield Plantation Golf and Country Club, located within the gates of Fairfield Plantation, is an 18 hole semi - private golf course and club. In addition to the Golf Course, the Club features a Club House with restaurant and banqueting facilities, floodlit tennis courts, swimming pool and driving range. Membership options are available to residents of Fairfield Plantation as well as the general public.
Standard Membership Includes:
Unlimited green fees

(10) day advanced tee times

Accompanied guest rates

Complimentary use of tennis courts

Complimentary use of clubhouse pool
Club Charge Privileges

Passport Membership Includes:
Unlimited Green Fees

(14) Day Advanced Tee Times

Golf Shop Discount of 15% (regular priced items only)

Accompanied Guest Rate

Complimentary Range Balls

5 Complimentary Green Fee Passes Annually

Complimentary use of Tennis Courts

Priority Access and Discounts on Special Events/Golf and Social Functions

Club Charge Privileges

Complimentary use of Clubhouse Pool (Open Seasonally)
Complimentary Golf Clinics
As at April 2011, Initiation Fee for Fairfield Property Owners was $500 for both Standard and Passport Golf Memberships. Monthly Dues for Property Owners was $105 for an individual or $130 for a family for Standard Membership , and $135 for an individual or $160 for a family for Passport Membership. Slightly higher rates apply for Non-Owner Members.
Local Government
Information Approximated & Updated Periodically. Not Warranted.